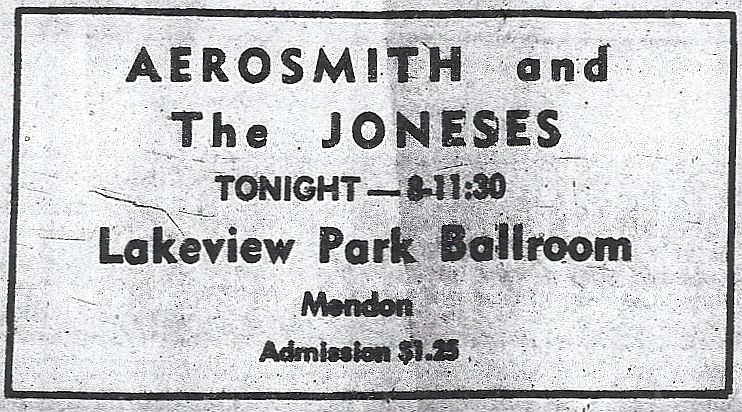 In the early days of Aerosmith, Dave Meade was their manager. The first ad ever placed for an Aerosmith concert was the one above, (submitted by Dave) which ran in the Milford Daily News April 20, 1971. Dave said the Joneses were the biggest rock band in Worcester County at the time. He hired them to be the opening band, but he didn't tell them that. They found out when they got there. "They went into the concert that night as the Number 1 band in the area. They came out Number 2," said Dave. Attendance that night was 1044. Thanks to Dave for telling me about the ad. As the one who placed it, he was able to tell me all these years later the exact day that it was in the paper. I went to the Milford Library the next day, and found it in the Milford News microfilm on that date. Here's a bit more from Dave.

"The concert was on a Tuesday night. Why Tuesday? It had become something of a tradition to have a rock concert on the Tuesday of school vacation week at Lakeview. Bill Greene had started that in the sixties. I think the Rascals played there in 1966, '67 and '68. The Kingsmen played the April date a couple of times, also. Then it didn't happen for a couple of years. I called Bill Greene and arranged the Aerosmith/Joneses concert for 1971. I packed too many people in and after that Bill took over. Ticket prices went up to $2.50, $2.75, and eventually to $4.50."

Below you can see a bit of what was surrounding the Aerosmith ad. A couple of movie ads that are out of view were for Patton and M*A*S*H. Part of a Hopedale Boy Scout Court of Honor article can be seen just above the Aerosmith ad.

"Walk this way," Patrol Boy Joe would say way back in 1961.

Thanks to Fran Coffey and Dave Meade for this picture. Fran gave Dave a copy and Dave gave me a copy. Thanks to Dave also for the names..

Top row – left to right – Jack Bresciani, Tony Niro, Nelson Thibault, Bobby Stearns, John Durham

Middle, left – Joe Perry        Middle, right – Fran Coffey

Bottom row – left to right – Al Tomassini, John Cox, Bruce Wright, Donald Sprague, Bobby "Bubba" Phillips (Philllips ID by Dick Grady and Bill Wright), Bill Reed

Aerosmith 1972 (or 1974, depending on which newspaper you believe.) Left to right: Joe Perry, Brad Whitford, Tom Hamilton, Steven Tyler (front), and Joey Kramer.

Thanks to Dick Grady for sending this one, with Steven Tyler in the Nipmuc shirt. The others are, left to right, Tom Hamilton (bassist), Joe Perry, Brad Whitford (guitarist) and Joey Kramer (drummer).

Thanks to Lois Taylor, Mark Taylor and Dick Grady who all had a hand, one way or another in saving this Worcester Gazette article and making it available. According to Dave Meade, Aerosmith and the Jones played several concerts together at Lakeview, the first being the one the ad at the top of the page was for –  April 20, 1971.

The letter to Lois, below, refers to the article above.
'Wings' over Westborough: When Steven Tyler and Aerosmith rocked Westboro Speedway
By Craig S. Semon Telegram & Gazette Staff
Posted Aug 18, 2019 at 11:54 AM

— Long before they were the "Bad Boys of Boston" and long before they were booked for Aug. 21, 24, 26 and 29 at the MassMutual Center in Springfield, Aerosmith was just another up-and-coming rock 'n' roll band hoping to make the big time.

Playing its share of ballrooms, high school auditoriums, skating rinks, town halls and YMCAs (including Nipmuc Regional High School and Lakeview Ballroom in Mendon, the Hopedale and the Upton town halls, and Webster Square Arena in Worcester), Aerosmith has always had strong ties to this area. Heck, Aerosmith's guitarist Joe Perry is originally from Hopedale, and the band's bassist, Tom Hamilton, married Doherty Memorial High School grad Terry Cohen in 1975.

Several months after the release of its sophomore record, "Get Your Wings," Aerosmith played to an estimated crowd of 15,000 on Aug. 18, 1974, at Westboro Speedway on Route 9. Not only was this Aerosmith's first big outdoor show as headliners, at the time the crowd was the largest to attend a rock concert in Worcester County, according to an Aug. 19, 1974, article in the Worcester Telegram.

"That was a big show for us," Hamilton said in a 2012 interview with the Telegram & Gazette. "In our minds, in our imagination, it was like a mini-Woodstock. And, yes, I still come across people all the time who were at that show."

On Friday, Perry, calling from his Kingston home to promote Aerosmith's four shows in Springfield, fondly recalled some of the early Aerosmith gigs, including Westboro Speedway.

"I remember going to the (Westboro) Speedway a couple of times to see the races," Perry said. "Those (early) gigs were kind of one-off gigs, man. You remember those. It was during a time when people were just discovering the band. So there's a lot excitement around that."

Thomas M. Oliveri Sr., who in 1974 was the general manager of United Chevrolet in Worcester (a car dealership owned by Dick Robideau, who also owned Westboro Speedway), was responsible for bringing Aerosmith to Westborough. But the "Bad Boys from Boston" weren't Oliveri's first choice.

"I was trying to get J. Geils, because they had a lot of local guys," Oliveri said. (The band's guitarist and namesake J. Geils, bassist Daniel Klein and harmonica player Richard "Magic Dick" Salwitz formed the band in the late '60s while they all were attending WPI in Worcester.) "We talked to the J. Geils Band and we talked to Aerosmith and, believe it or not, Aerosmith, at the time, was a little less money. So we went with Aerosmith."

Oliveri, who today owns a string of restaurants with his sons (including Peppercorn's Grille & Bar and Tomato Pie, both inWorcester; Prezo Grille & Bar in Milford; and Oli's Italian Eatery in West Boylston), hired 25 to 30 Westborough police, 25 men from City Detective Agency and 10 Pinkertons to keep the peace, according to the Telegram coverage.

"Overall, the crowd was excellent," Oliveri recalled. "They enjoyed the show. It wasn't a matter of getting stoned or drunk."

At $6 apiece (roughly $31 in today's dollars), the town of Westborough allowed only 10,000 advance sale tickets with none available at the gate. On the day of the concert, thousands of gate-crashers who couldn't score a ticket pushed their way inside.

"We couldn't control them. They just overran the fences and they collapsed," Oliveri said. "Aerosmith's manager (Frank Connelly) thought there were more people in the place than we agreed upon. I told him, very frankly, 'Listen, I can't control that. What do you want from me? Either Aerosmith goes on or don't go on.' "

Reached by phone at his Sherman Oaks, California, home, former Aerosmith road manager Robert "Kelly" Kelleher said Westboro Speedway was Aerosmith's first time headlining a show that big. And in honor of the occasion, the band brought out the pyrotechnics.

"We did a special fireworks display," Kelleher said. "When the band went offstage after finishing their main set, we shot off three concussion explosions and then Aerosmith went back for the encore and then we lit the rest of the fireworks."

Kelleher, whose main job was taking care of the band and keeping an eye on the stage, was also responsible for putting together the band's rider, a set of demands that a performer sets as criteria for performance.

″(Aerosmith's singer) Steven (Tyler) wanted turkey every night. And in the rider, we specified not turkey roll, no repressed breasted turkey. We used to have a cooked turkey every night," Kelleher said. "We also had Chinese food. Everyone ate Chinese food. That's an easy one and the promoter can't (expletive) it up."

In addition to fireworks, Kelleher and Hamilton (according to "Walk This Way: The Autobiography of Aerosmith") both recall "a good-looking redhead wearing only shades and panties jumped on the stage" near the end of the show in Westboro.

"Somebody had a friend who was a streaker," Kelleher said. "Streaking was a thing of the time."

Of the three bands that played 45 years ago at the Westboro Speedway, Oliveri said he thought Duke and the Drivers (the band that played between Mad Angel and Aerosmith) was the one that was destined for rock 'n' roll greatness.


Aerosmith celebrates their 50th anniversary as a band in 2020. Their live debut was at the former high school in Mendon.

By Jay N. Miller/For The Patriot Ledger
Posted Nov 8, 2020 at 11:21 AM Updated Nov 8, 2020 at 11:49 AM

When it comes to Aerosmith, the hard-rocking Grammy-winning quintet that played its first gig at Nipmuc Regional High, I'm a late bloomer. But like the saying goes, better late than never.Aerosmith made their live debut 50 years ago today – Nov. 6, 1970 – at the former high school in Mendon that's now Miscoe Middle School. Five wild decades later, Steven Tyler, Joe Perry, Tom Hamilton, Joey Kramer and Brad Whitford, are still rocking. The band's 50th anniversary concert at Fenway Park was pushed to Sept. 14, 2021, after coronavirus concerns forced the postponement of what was being billed as a "once-in-a-lifetime one-night only performance."

When the band was at their initial height, busting up the charts throughout the late 1970s, I was surely a music fan, but gravitating to more singer-songwriter rockers like Moon Martin, Nils Lofgren, Jerry Jeff Walker and Greg Kihn. Over time I came to appreciate their hard-rocking take on things and the consistent professionalism and musical precision they brought to every show or album. It's a style of rock rooted in the blues, of course, like the Rolling Stones and other bands, but it's a more polished, decidedly American version. And the unique dynamics of the quintet makes for natural dramatic tension that lends an almost operatic quality to some of their biggest hits, like "Dream On."

It soon became apparent that as a music writer for The Patriot Ledger I had to become well versed in Aerosmith, since they were practically the local franchise. At one time Tyler, Kramer and Whitford all ived in Marshfield, while Perry had a home in Duxbury. Hamilton was the outlier, living in Boston and Cape Cod. Tyler and Perry even owned a music club, Mount Blue in Norwell.

Aerosmith, of course had gotten their start at about 1970, while most of the members lived at 1325 Commonwealth Ave. in Boston. Kind of a hybrid band formed from two groups that included guitarist Joe Perry and bassist Tom Hamilton, and another that featured singer Steven Tyler, drummer Joey Kramer, and Tyler's pal Raymond Tabano. They played their first real gig at Nipmuc High in Mendon in 1970. Within about a year, Tabano was replaced by Berklee College of Music student Brad Whitford, and the band began performing anywhere and everywhere in New England, and beyond.

Legend has it that a gig at Max's Kansas City, the New York City music joint, was a turning point, even if the band had to pay for its slot on the night's bill. Clive Davis, the big honcho from Columbia Records heard the band and before long signed them to his label. Their eponymous debut album in 1973 never got higher than No. 166 on the album charts and even its standout single "Dream On" only cracked the singles charts as high as No. 59.

It wasn't until Aerosmith's third album, 1975′s "Toys in the Attic" that they really burst onto the national scene, as the single "Sweet Emotion" cracked the Top Forty, and ironically, a re-issue of "Dream On" peaked at No. 6. But even as the band was crafting a dozen singles that would have a big impact on the charts, the off-stage antics and substance abuse problems were stressing the band. All that relentless touring took a toll, and between 1979 and 1981, both Perry and Whitford left the band. It wasn't until 1984 that the original five was back together, but the "Rock in a Hard Place" album didn't yield any hits and the band was in kind of a slump until collaborating with Run-DMC on a reworked "Walk This Way" vaulted to the No. 4 spot on the charts in 1986 – higher than Aerosmith's original version.

Aerosmith's comeback really took off with the 1989 album "Pump," with many of its tunes first worked out in the lengthy sessions the band had at Rik Tinory's Cohasset studio. That album became one of 1990′s best-selling albums, and then a couple of tunes on the "Wayne's World 2″ soundtrack kept the band's profile rising. This was about the time I began covering the band, as one of the three music writers the Patriot Ledger had at the time.

Aerosmith's star began to really rise as the '90s unfolded, even as their management brought in some outside writers to help them with lyrics. 1993′s "Get A Grip" continued their revival, and their burgeoning profile especially around Boston, led to their founding their own club, Mama Kin in 1994. "This club is about giving back to the music,″ Tyler told reporters during a press conference at the opening. "The club scene is so bad, it's like a pothole on the road to getting there. We're trying to help that. I hated playing clubs, but that's where you really develop as a band.″ Mama Kin closed about 1997.

Somewhere in that time period we reviewed the band at TD Garden, or the FleetCenter as it was known then. I recall a couple New Year's Eves where it was always a torrid, celebratory way to ring in a New Year. One strange incident was when my notes were a bit garbled, but it seemed they had played a song called "Time" as the third song of their New Year's Eve set, which seemed an apt choice, since it dealt with the passage of time. Back in those days, before the internet had set lists up by the time a concert ended, you had to make an informed guess. Turned out it had been "Toys in the Attic" and some irate fan wrote in suggesting we must've skipped the show altogether – despite apparently agreeing with the rest of the review.

It was 1996 when we reviewed a band that was opening for Hingham's Draw the Line, the excellent Aerosmith tribute band fronted by Neill Byrnes. That opening act, Crazy Raymond and the Watchdogs, was Tabano's mid-life shot at a bit of rock glory himself, a sturdy trio that lit up Weymouth's old Spotlights club with its hard rock. Tabano told me he was then a Manhattan chef, and just itching to have a little rockin' fun, and that night saw Kramer come onstage to jam with his old bandmate.1997 was a weird year for Aerosmith, as their "Nine Lives" tour was interrupted by a Tyler leg injury, and then famed car aficionado Kramer had one of his babies, a Ferrari, catch fire at a Marshfield gas station. Some years later, I did an interview with Kramer when he was expanding his gourmet coffee brand, and I was instructed by the publicist I could ONLY ask about cars or coffee, no music. Another time, publicizing his own superb autobiography, Kramer was more than willing to talk about the band and his role in it.

1998 brought one of the band's biggest hits – the ballad "I Don't Want To Miss A Thing," from the soundtrack to the film "Armageddon." Penned by pop songwriter Diane Warren, the tune is a neat vehicle for Tyler's softer side and it has become a concert staple, even if it is miles away stylistically from Aerosmith's signature sound.

The years since then have seen the band maintain its position near the top of the annual concert drawing cards, even amid periodic drama and members leaving and returning. At this point, I have done interviews with three of the members, Perry and Kramer a couple times each, and Hamilton once. One memorable Perry interview was arranged during a day I was covering a Babe Ruth baseball tournament in Quincy, so at the appointed time I left the press box, called the number from my cell phone and did the interview about their "Honkin' On Bobo" blues album from the parking lot.

We've heard Aerosmith play with Cheap Trick, Kiss and ZZ Top at various times and they always earned their top billing. When they played Fenway Park in 2010 with The J.Geils Band, their Beantown brethren gave them a run for their money, but how can you top a rendition of "Dream On" with Tyler at a white piano atop the Green Monster?

There have been injuries, like Tyler's 2009 tumble from a stage, or health scares like Perry's collapse onstage with the Hollywood Vampires in 2016, and Kramer's battles to reclaim his drum chair in recent years. Tyler's had his flirtation with country music — and he has the chops to do it. Perry's desire for more solo work, in his Joe Perry Project – which includes Weymouth keyboard wizard Paul Santo – led to 2018′s fine "Sweetzerland Manifesto" album, and his work with the Alice Cooper and Johnny Depp in the Hollywood Vampires is pretty compelling too.

But the bottom line is that the original five still have that special something and luckily for fans they seem to have realized it. As Perry told me in our interview about his autobiography, back in 2014: "The music is the glue that keeps us going. There are times now we don't see each other for long periods, or after shows, that's true. But it is more a result of how we travel, with our families, and not a symptom of any animosity. We all live our lives different ways, and use our time offstage the way we want. If Steven and I have any issues today, we take each other by the arm and talk it out. We realize there's a magic that happens when we're all together that we can't find anywhere else."

50 years ago in a high school gym, this no-name band became Aerosmith
By James Sullivan Globe correspondent,Updated November 5, 2020, 2:48 p.m.

Aerosmith at Nipmuc Regional High School in Mendon, Nov. 6, 1970, the first time Steven Tyler, Joe Perry, and their bandmates performed under that name. Courtesy of Ed Malhoit

The band had been playing together for a few months, and they were getting pretty good. But they could not for the life of them decide on a name.

The young guitar player led a previous group called Flash, and another known as the Jam Band. The singer had one back in New York called Chain Reaction, previously known as the Strangeurs. Now they were billing themselves in a plain brown wrapper, as "Joe's new band" or "Steven's new band."

That, they knew, couldn't last. How about Spike Jones, after the novelty bandleader? Too confusing. The Hookers? Uh, nope.

In high school, the drummer had toyed with the word Arrowsmith, from the Sinclair Lewis novel. What about a retrofitted version of that?

"It was the only name nobody didn't like," recalls Joe Perry, the guitarist. "Nobody could think of anything the matter with it."

As it turned out, the name has served Perry's band well. Within a few years, he and the singer Steven Tyler and their band mates perfected a rock 'n' roll swagger that took cues from the Rolling Stones and would go on to influence Van Halen and Guns N' Roses. Having established themselves as one of the best-selling rock bands of all time, Aerosmith was inducted into the Rock and Roll Hall of Fame in 2001.

It's been 50 years since the band's first appearance with the name. That show, on Nov. 6, 1970, took place at the old Nipmuc Regional High School, now a middle school, in Mendon.

Joe Perry grew up in nearby Hopedale. He'd met Steven Tyler — then still known by his birth name, Steven Tallarico — around the Lake Sunapee area of New Hampshire, where they both spent their summers. To pursue their rock 'n' roll dreams together, they'd moved into an apartment on Boston's Commonwealth Avenue with drummer Joey Kramer and bassist Tom Hamilton. (Guitarist Brad Whitford would join the band a little later, replacing Ray Tabano.)

Aerosmith's Tom Hamilton and Steven Tyler in 2012, performing outside the Commonwealth Avenue apartment building where the band members lived when they first began performing together in 1970.Bill Greene

In those early months the band landed a lot of gigs around Perry's hometown in Worcester County. With help from Dave Meade, a high school friend, they arranged some shows at the Hopedale Town Hall, and several more at the Lakeview Ballroom in Mendon. They got the gig at Nipmuc Regional through a young history teacher who was serving as the sophomore class adviser.

"The girls in the class were very friendly with the boys from Hopedale," says Carl Olson, who is now retired. The students were tired of the usual "record hops." Could they hire a band for the next dance?

Olson went to the principal to get permission. The band wanted $50 to play.

"His eyebrows kind of went up," Olson remembers. "He was a very conservative gentleman, but he finally agreed."

No one can quite recall what songs the newly christened Aerosmith played that night. They almost certainly played their versions of "Route 66" and "Train Kept a-Rollin'." They may have played one or two originals — "Movin' Out," maybe, or "Somebody," both of which would appear on their debut album in 1973. (That's the record that also features a certain power ballad with the name of "Dream On.")

There were maybe 200 people on hand, says Meade, who was there. Other than Tyler's complaint about how loud Perry was playing, the show was not particularly memorable. They had better shows at the Hopedale Town Hall, Meade says, which had exceptional acoustics.

But the students, by all accounts, enjoyed themselves. Tyler took the stage wearing a Nipmuc Regional basketball T-shirt, which he'd pinched from the boys' locker room. After the show, the janitors informed Olson that they'd found some empty bottles of cheap Boone's Farm wine out behindthe gym.

The golden anniversary of the first Aerosmith gig kicks off what the band hopes will be an extended period of retrospection, says Perry. They're discussing an upcoming release that could showcase a recently discovered rehearsal tape from the period before the band was signed to Columbia Records. The original reel-to-reel tape turned up, Perry believes, in the band's old van, a 1964 International Harvester Metro delivery truck. The van made news when it was pulled from the woods on private property in the town of Chesterfield a couple of years ago.

The original Aerosmith tour van, which was located in Chesterfield and later restored. The History Channel/Screenshot

"There was a lot of stuff tucked in the corners — ticket stubs, a notebook, gas receipts," Perry explains, speaking by phone while lying in the sun at his Florida home. It's a pristine recording, he says: "Even though some of the lyrics are different and it's a little different in the arrangements, if you played it side by side with the first album, you might find it hard to figure out which is which."

In those days, the band had a close relationship with Frank Connelly, the powerful concert promoter who'd brought the Beatles to Boston. They called him Father Frank. In turn, he gave each of the band members a nickname.

According to Perry, Hamilton was "Low Gear." Whitford was "Light Horse," and Kramer, who loved the Three Stooges, was "Soitanly." Tyler was "LM," short for "Loudmouth." And Connelly called Perry "Flash," though he was unaware that was the name of one of the guitar player's first bands.

In 2012, the city of Boston closed off a section of Commonwealth Avenue in front of the band's old apartment for an afternoon promotional concert to mark the release of their most recent album, "Music From Another Dimension!" Tom Brady and Robert Kraft were on hand, and the band played on a flatbed truck for an enthusiastic crowd of several thousand.

"We thought a few people would show up, but they really rolled it out for us," Perry says. "We were stunned." They'd driven by the old apartment to reminisce once or twice before, he says.

"We had quite a few adventures there. Some made it into the books, and some didn't," he adds with a laugh.

Perry and his family recently sold the horse farm they kept for years in central Vermont, not far from where he once attended boarding school. He still has a house on the South Shore, in Duxbury, but with homes in the Sunshine State and Los Angeles, these days he's rarely in New England.

He's been meaning to get back to Hopedale for a trip down Memory Lane, he says.

"It would be great to do a gig at the Town Hall again," he says. "We'll see."

James Sullivan can be reached at [email protected]. Follow him on Twitter @sullivanjames.

Aerosmith's Sweet Emotion for Metrowest
By Mr. Know-It-All
Milford Daily News
Dear Mr. Know-It-All,
You wrote a few weeks ago about Jimi Hendrix performing in Framingham.  Didn't Aerosmith perform in Metrowest, too? P.R., Milford
Indeed they did, P.R.  In fact, Aerosmith's very first concert took place in MetroWest, specifically at Nipmuc Regional High School in Mendon on November 6, 1970.
Carl Olson was a history teacher at Nipmuc at the time as well as the adviser for the sophomore class, which organized the Aerosmith concert.
"It was a hard battle to actually get them there," Olson recalls.  "Most dances back then were record hops.  Having live bands was kind of an unusual thing to do.  Still, a group of students convinced me to hire the group.  Joe Perry (Aerosmith's guitarist) is from nearby Hopedale and the kids were friendly with him so we convinced the principal to allow us to take 50 bucks out of the class treasury in order to pay them for the night."
The principal at the time was Wilho Frigard.  "He wasn't too enthralled with the idea, but we worked on him long enough to convince him," says Olson, who is now retired and resides in Medway.  "He was kind of hesitant to spend 50 bucks."
While $50 may seem like chump change now for one of rock 'n' rolls premier bands, that money was put to good use by the group, according to Olson.  "If you look in their autobiography, they said that $50 paid the rent for the apartment in Boston where they were staying back then," he says.
The concert was organized as a fund raiser with admission either 50 or 75 cents, according to Olson.  "I'm not sure if we covered all the costs," he says.
In case you're curious, a good seat for an Aerosmith concert today can exceed  $100.
According to an Aerosmith Web site — and there are a lot of them — the playlist for that first concert included 11 songs: "Route 66," "Rattlesnake Shake," Happenings Ten Years Time Ago," "Movin' Out," "Somebody," "Think About It," "Walkin' the Dog," "Live with Me," "Great Balls of Fire," "Good Times Bad Times'" and "Train Kept A Rollin'."
"They didn't play many songs but it was loud," Olson recalls.  "And the kids loved it, though the adults were a little taken back."
"They perforned in the gym to a crowd of about 125 people, which was a good crowd for dances back then.  The kids had a good time.  At a class reunion later, Yankee Magazine talked to the students who were there.  The kids at the reunion said how amazing it was and how nice it was to see kids from the area end up doing so well.  Who would have known?
"The most amazing thing, though, is not one single picture was taken that night.  It would have been priceless to have now."
Any final thoughts?  "It was a very interesting evening."
Dick Grady, a history teacher at Miscoe Hill Middle School in Mendon, has compiled information about Aerosmith, too.  For you continuity fans out there, Miscoe is located where Nipmuc used to be before it moved to Upton.  The gymnasium is now named after Frigard.
Grady says the Nipmuc concert almost didn't take place.  "The band was drinking Boone's Farm wine before the concert and almost got tossed," says the Mendon resident.
And there were other shenanigans.  "The group changed in the locker room and Steven Tyler (Aerosmith's lead singer) absconded with a Nipmuc shirt from there and wore it for the concert."
Grady notes that Perry went to Hopedale High School where his mother, Mary, was a physical education teacher.  "Perry had a run-in with the principal at the time, Albert 'Chick' Sayles," he says.  "The principal wanted Perry to cut his hair, but Perry refused and eventually left the school."
Apparently Perry didn't hold grudges.  When the band later performed at Boston Garden, he sent a limosine to pick up Sayles and his mother and drive them to the concert, according to Grady.  "Sayles went, too," he says.
For more MetroWest connections, we chat with Dave Meade, who grew up with Perry in Hopedale.  "I taught him his first chords on the guitar and played in bands with him," recalls Meade, who is now a circulation manager for the Community Newspaper Co., which publishes The Daily News.
Meade notes that, following the Nipmuc gig, he also booked four monthly concerts for Aerosmith at Hopedale Town Hall in 1970 and 1971.  Admission was $1.  He booked another concert at the Lakeview Ballroom in Mendon where more concerts took place afterwards.  The venue is now called the Myriad Ballroom.
So what was Perry like in those early years?  "He'd just sit in his room and play guitar all the time," says Meade.  "I mean really extensively, and when he wasn't doing that he'd be out looking at other bands."
Want more?  Sure you do.  Aerosmith performed at Wayland High School, too, and Gail McNeill, a 1971 Wayland graduate, was there.  "It was pretty cool," she recalls.  "They played on into the night."
The concert is mentioned in the class yearbook of her sister, Robin, who graduated from Wayland in 1974.  "I must have come back from college for the concert," says McNeill, who now resides in Framingham and runs the McNeill Veterinary Clinic in Sudbury.  A yearbook blurb on Student Council activities mentions the concert: "In November (1973), a spectacular concert by Aerosmith was sponsored with much success."
Why Wayland?  Mr K would love to find out.  Another Web site on Aerosmith notes that the group's bass player, Tom Hamilton, resided in Wayland and Weston as a youth.  Perhaps that had something to do with it.
For more concerts, yet another Web site states that Aerosmith performed at the Cricket Lounge in 1972.  The lounge is now the site of a day-care center located near the MBTA station on Plaeasant Street.
The band also performed at Hopedale High School's prom on June 16, 1973, and the Westboro Speedway in Westboro on Aug. 18, 1974, states another site.
Now Mr. K is willing to bet his Aerosmith record collection that the band performed at other venues in MetroWest.  If you know of any, just contact yours truly and keep dreaming on.
 Letters from Joe, written at Vermont Academy  
Click here to see a picture of Joe and a couple of his buddies in a pre-Aerosmith band.
Dave Meade's "pre-Aerosmith" and Aerosmith Memories  
Joe Perry Biography on IMDb         Joe Perry – Wikipedia            Aerosmith Family Tree 
 Dana Francis's Aerosmith Memories                              Mary Perry                             HOME