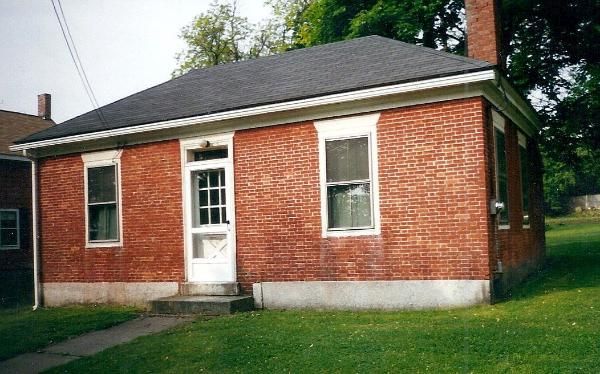 City Hall : Mendon Center's Building of Many Uses

In Mendon's electric street railway days in the early 1900's, a trip from Milford to Uxbridge included passing through Mendon center. It was customary for the conductors to announce certain landmarks along the route, so when the trolleys travelled along Main Street, they would announce that they were passing in front of "City Hall." It was a nickname that they had given to the small, brick federal style building at 13 Main Street. The humorous nickname was partially accurate. The historic structure has had many names and a variety of uses since it was built eighty-one years before the trolley existed.

The first use of the building was for a law office.  Attorney Seth Hastings had it built in 1820 for his family law firm. It included his sons, Atty. William Soden Hastings and Atty. Charles C. P. Hastings, and his son-in-law,  Atty. Caleb Hayward, who was married to his daughter, Mary. William was also the town's postmaster, so he used part of the building as a post office. It had a dual purpose until 1836, when William decided to move to Virginia to become a congressman. Seth had died in 1831, and Caleb had passed away in 1832. Charles moved his law practice to his father's former bank at 3 Main Street. The building's legal and postal uses ended after sixteen years.

Jabez Aldrich purchased the edifice in 1836 and used it as a general store. He also was the storekeeper at the larger general store at 1 Maple Street. When he died in 1837, his sons, Henry and William took over the operation of both stores. An 1857 map shows that brother-in-law, James Cunnabel, ran a tailor shop from the building. The Aldrich family retained ownership until 1889.

The town authorized the purchase of the brick building at a town meeting on March 4, 1889, which was continued to April 6. The purchase price was  $500. Its purpose was for the storage of town records, weights and measures, and town law books. It also provided office space for town officials to conduct their work. The inside woodwork was oiled, and the walls were calcimined. New windows and doors were installed, and new safes were put into the vault. The cost of the renovations was $253. The selectmen, Gustavus B. Williams, Albert W. Gaskill, and Liberty Freeman, conducted their first meeting there on October 5, 1889. The building continued to be used for a variety of governmental purposes through the 1960's. As improvements were made in the Mendon Town Hall in regards to new office
rooms, the documents and books were moved to the improved location. Today, the building is commonly called the Record Room, and it stores historic materials under the jurisdiction of the Mendon Historical Society.

City Hall has served the people of Mendon in many ways  since 1820. Its durable brick structure has weathered the elements and endured the wear and tear of 193 years. The philosophy of its successive owners has been to adapt the interior of the building in accordance with its proposed use. It is one of the many examples of why our historic  village center is mostly intact today.

Richard Grady
May 9, 2013

Mr. Paul Holtz, Co – Director   Historical Architect          
Mass. Historical  Commission – Grants Division
Mendon Historical Society                                                                        
220 Morrissey Boulevard
March 10, 2022
Boston, MA 02125    
Dear Mr. Holtz:                                                                                               
As members of the Mendon Historical Society, we are very pleased to write this letter of support to preserve and upgrade the historic federal style brick building at 13 Main Street. Built two hundred two years ago, the edifice has served in a variety of purposes to carry out business in Mendon's village center. It is of extreme historic significance because of the initial reason for its construction and the willingness of its successive owners to adapt in accordance with each proposed new use.
The first use of the building was for a law office. Attorney Seth Hastings had it built in 1820 for his prominent family law firm. It included his sons, Attorney William Soden Hastings and Attorney Charles C.P. Hastings, and his son-in-law Attorney Caleb Hayward. Caleb was married to Seth's daughter, Mary. William was also Mendon's postmaster, so part of the building was used as a post office. It had a dual purpose until 1836, when William moved to Virginia to become a congressman. Meanwhile, Seth died in 1831, and Caleb passed away in 1832. Legal and postal uses ended after sixteen years.
Jabez Aldrich purchased the edifice in 1836 and used it as a general store. He was also the storekeeper at the larger, adjacent general store at 1 Maple Street. When he died in 1837, his sons William and Henry took over the operation of both stores. An 1857 map shows that brother-in-law James Cunnabel ran a tailor shop at the building. The Aldrich family retained ownership until 1889.
The town purchased the brick building at a town meeting on March 4, 1889. The price was five hundred dollars. Its reason for purchase was to store town documents, records, weights and measures, and law books. It provided office space for town officials to hold meetings and carry out their work. Renovations took place, including new doors and windows. New safes were purchased for the vault. Woodwork was oiled, and walls were calcimined. Gustavus B. Williams, Albert W. Gaskill, and Liberty Freeman held the first selectman meeting there on October 5, 1889. The building continued to be used for governmental interactions until 1969. Later, 13 Main Street has been used by the Mendon Historical Society for meetings and storage.
During Mendon's electric street railway era from 1901 through 1928, trolleys travelled along Main Street. Conductors often announced and described certain buildings and geographic locations in order to make the journey more interesting. Passing by the small brick building, they referred to it amusingly as "City Hall." The humorous nickname was partially accurate.
This building is a significant specimen of Mendon's Golden Age, (c1820 to 1845). The beautiful hilltop village center triangle of Hastings Street, Maple Street and Main Street became a location of profound influence as our country was shaping herself after independence. Through common-sense protection and adaptive reuse, it continues to impact our children's and future generation's appreciation of Mendon's past.
Law office, post office, general store, tailor shop, government office, and Record Room. The beloved historic building has had many names and has served the people of Mendon in a variety of uses since it was built eighty-one years before the trolley. It is a historic gem that is an important segment of our heritage.
We give this preservation project our strongest support.
Yours truly,
John Trainor and Richard Grady
Mendon Historical Society.