Draper Location in Spartanburg, SC
By Mike Cyr
My wife and I have been travelling North and South Carolina in search of a place to live outside of Florida. This exercise has brought us through Spartanburg twice in the last year or two. This trip I endeavored to locate the Draper building in that city. First though I thought I would share a little bit about Spartanburg. Many of the textile mills in Massachusetts had chosen Spartanburg as a good place to have a mill in nonunion areas. The city was a humming concern during the post WWII era. Of course by the 1980's most all of those concerns had either gone bankrupt or moved to the Far East and the city eventually began to look like Lowell MA. Some of these mills were renovated others were torn down.
I was hoping to see and photograph a lovely, renovated Draper building that had become an apartment building or office building like the hat factory in Upton. Here's what I found.
Using the address I found in the Draper Section of Dan's website, I plugged into my Smart Phone's GPS 964 South Pine St. Spartanburg SC and here's where it brought me: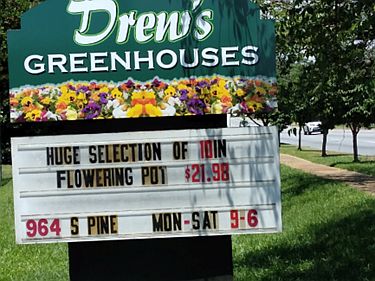 Yes, the site of the former Draper Shop is now a Florist Shop.
It was apparent that this area of town was once a manufacturing area. The street behind the 926 South Pine Street had a substantial rail yard that is now a recreation area.The rail yard has a walking/bike path where the tracks once lay. There are also areas with picnic benches and play areas.
Right next door is a restaurant that was most likely a favorite spot for Draper employees to get lunch. I'm sure if Wade started his eatery in 1947, it was a break spot for The Draper Crew.
Here at 600 South Pine Street, we  spotted a rehabbed brick building that housed professional offices. It made me wonder if this might have been the management office for Draper's.
About one-half mile from this area on a hill overlooking this part of South Pine Street is a very large factory building currently being renovated. Nice to see the past being repurposed rather than destroyed.
This part of town is quite distressed. I hope that the rehab of this building with act as a catalyst to revive the area.
Nevertheless, I was disappointed to see that the Spartanburg Draper Building had befallen the same fate as her Hopedale Parent has.
Dan – my name is Larry Farr from Spartanburg, SC.  I ran across the History of Hopedale, Massachusetts website, and I had a chance to review some of the different pages on the site.  It is very interesting.  I worked for Rockwell-Draper in Spartanburg as the general accounting supervisor of four years (July 1977 – July 1981).  Of course, when I went to work there, consolidation from Hopedale was well underway.  Prior to my joining the company, there had been a lot of work at the Spartanburg plant upgrading the foundry there.  Interestingly, I left Rockwell-Draper to go to work to its main competitor at the time Sulzer.  I was with the company for 23 years advancing to controller and VP of Finance until it was bought out by ITEMA, the Italian loom manufacturer that owned Somet and Vamatex.  It was a good run at Sulzer, and I was sorry to see my time end there, but the US textile industry was in major decline in 2004. 
At the Spartanburg plant, there was the foundry, machine shop, and distribution warehouse that was moved to Greensboro between 1980 and 1981..  I don't recall the exact time.  It was before I left the company because I remember going to several meetings in Greensboro.  The loom sales office was located at a different office that was rented.  At one time, the sales office was in a different building in a different section of town.  The plant was referred to as East Spartanburg.  I recall many of the Hopedale people referring to our offices at the plant as East Spartanburg.  I recall Dan Breen, Ray Grant, Mike McGrath.  Dan Breen trained me in my job for month end closing when his function transferred to Spartanburg.  Leonard Baird, who wrote a little history, worked for me during my time there.
I read Mike Cyr's article about the Draper Location in Spartanburg.  Unfortunately, much of his information is not correct.  The Draper facility was located at 951 S Pine Street, Spartanburg, and is still there.  It is occupied by a company named Grace Management Group.  They are a leading home manufacturer of fragrance products like potpourri, scented candles, etc.  They sell internationally in 90 countries under the names of Greenleaf, Fresh Scents, Bridgewater Candle Company, and Votivo.  The Drew's Greenhouses in the picture is across the street from the plant.  The Wade's restaurant building across the street is now their corporate headquarters.  When I worked at Draper, that was their restaurant building, and I ate many lunches there.  At one time, there were two Wade's Restaurants in Spartanburg, and when the decision to close this one, they made that facility their corporate office.  They are an excellent meat and three restaurant that has always been very successful.  The guy who started Wade's was named Wade Lindsey and his wife was Betty.  Wade was an employee of Draper, and I think he originally had some sort of "dope wagon" at the plant and later came the restaurant.  The second and third generation of the family are now running the business.
With only four years, and at the end, I don't know a lot of the history.  I enjoyed my time there, but there was always the cloud that the company was not going to make it.  I hope you find this info helpful.  If I can be of any other help about the Spartanburg office, let. me know. 
Thank you.
Larry Farr
Dan – attached are 8 current pictures of the former Draper facility in Spartanburg, SC.  The pictures were made left to right.  It was quite a large facility.  The foundry was located on the back side of the property.  The smoke stacks and cooling towers are no longer there.  The last two pictures show the spare parts warehouse section of the facility (blue siding) that was used in that capacity until 1980/1981 when the warehouse was moved to Greensboro, NC.  For many years, foundry, machine shop, and spare parts warehouse distribution were all located at this facility.  The new owners have done a good job of keeping the building painted and looking nice as well as nice landscaping.  I do not know how much of the building that they are utilizing.  I hope you will find this helpful.  Please use whichever pictures you like.  Sorry I could not get a good wide angle shot.  I wish that I could get an overhead drone shot.  I think it would be quite impressive.