Draper Location in Spartanburg, SC
By Mike Cyr
My wife and I have been travelling North and South Carolina in search of a place to live outside of Florida. This exercise has brought us through Spartanburg twice in the last year or two. This trip I endeavored to locate the Draper building in that city. First though I thought I would share a little bit about Spartanburg. Many of the textile mills in Massachusetts had chosen Spartanburg as a good place to have a mill in nonunion areas. The city was a humming concern during the post WWII era. Of course by the 1980's most all of those concerns had either gone bankrupt or moved to the Far East and the city eventually began to look like Lowell MA. Some of these mills were renovated others were torn down.
I was hoping to see and photograph a lovely, renovated Draper building that had become an apartment building or office building like the hat factory in Upton. Here's what I found.
Using the address I found in the Draper Section of Dan's website, I plugged into my Smart Phone's GPS 964 South Pine St. Spartanburg SC and here's where it brought me: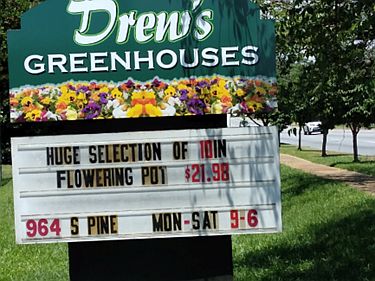 Yes, the site of the former Draper Shop is now a Florist Shop.
It was apparent that this area of town was once a manufacturing area. The street behind the 926 South Pine Street had a substantial rail yard that is now a recreation area.The rail yard has a walking/bike path where the tracks once lay. There are also areas with picnic benches and play areas.
Right next door is a restaurant that was most likely a favorite spot for Draper employees to get lunch. I'm sure if Wade started his eatery in 1947, it was a break spot for The Draper Crew.
Here at 600 South Pine Street, we  spotted a rehabbed brick building that housed professional offices. It made me wonder if this might have been the management office for Draper's.
About one-half mile from this area on a hill overlooking this part of South Pine Street is a very large factory building currently being renovated. Nice to see the past being repurposed rather than destroyed.
This part of town is quite distressed. I hope that the rehab of this building with act as a catalyst to revive the area.
Nevertheless, I was disappointed to see that the Spartanburg Draper Building had befallen the same fate as her Hopedale Parent has.